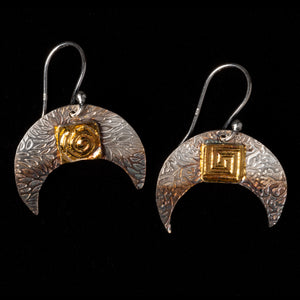 Pure Silver Crescent Earrings With Gold Foil Patterned Squares
I have crescent earrings of my own, but in a different style.
I used the ones I have as inspiration to create these in a different style and a different way to hang them. I textured the background then added a patterned small square at the top with different designs to make them even more interesting.
These are unique, handcrafted by me. Each time I make them a little different, though the crescent shape might stay the same.
The Crescent moon has such an alluring appearance in the sky.
These earrings are stylish and unusual as well as fun.
Dimensions Almost 1/2 inch X 1 inch
Sterling silver ear wires. These can be switched to comfortable sterling silver clip ons for an additional charge.
PLEASE NOTE: These earrings were just purchased by a happy customer. However I can make a custom pair for you. Since I make everything from scratch they may look slightly different in that the gold and or patina color may be slightly different.