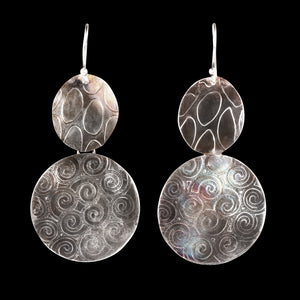 These are textured Sterling silver earrings.
The pattern was arrived at by passing the annealed silver discs through a rolling mill with patterned paper. The upper disc is elongated and the lower one is round. The patterns are different on the upper and lower discs.
Patina was painted on, then gently rubbed to show off the pattern to the best effect. I left the patina on the plain side because the colors are lovely blues and greens. This allows the ear wires to be changed in direction and the earrings can be worn on either side, one side patterned, the other side plain but patinated on both sides with different effects.
Dimensions 2 and 3/4 inches long from the top of the ear wire. 1 and 1/4 inch diameter lower circular disc.
Sterling silver ear wires. These can be switched to comfortable sterling silver clip ons for an additional charge.
PLEASE NOTE these specific earrings have been purchased by a happy customer. However, I can create a similar pair if you would like to place a Custom order. They will look somewhat different from this pair since I start from scratch with every piece of jewelry I make.