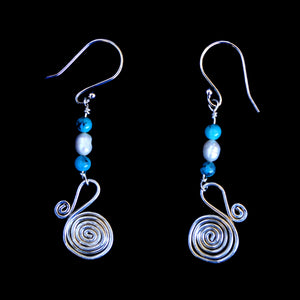 When I went to India I had seen a similar pair but in a different metal. I asked my cousin's permission to make these. These are made with coiled Sterling silver wire and adorned with Turquoise beads and pearls.
The coil though it is called Egyptian is not typically seen in Egyptian jewelry. The spiral or coil is an ancient symbol which is seen all over the world in various forms. It gives the feeling of continuity of the life cycle. I find them pretty and use them frequently in my patterns. One of the coils, the other smaller.
These are simple sweet earrings which will enhance any outfit. They are festive looking dangly earrings which are casual but also dressy.

Dimensions: 1 and 1/2 inches X 1/2 inch ( Coil )
Sterling silver earwires. These can be replaced with comfortable sterling silver clip ons for an additional charge.