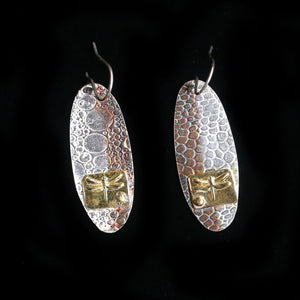 I have a pair of earrings I wear all the time. One earring has a seahorse on it at the bottom, the other has a dragonfly. Someone suggested I make a pair of earrings which had a dragonfly on each earring since people love dragonflies. I decided to have different textures for the dragonfly to sit on as I have on the earrings I wear.
These were made using Silver clay with different textures and a long oval shape. One texture is like bubbles, the other like cobblestones. After the pure 999 silver came out of the kiln I burnished the dragon flies with 24K Gold Foil, a Korean technique called Keum Boo. I painted on some patina for an antique finish with extra color. These are lovely dangly earrings which can be worn everyday and admired or as a statement pair for evening wear.
Dimensions: 1 and 3/4 inch X 3/4 inch. Sterling silver ear wires. These can be changed to comfortable sterling silver clip ons for an additional charge.