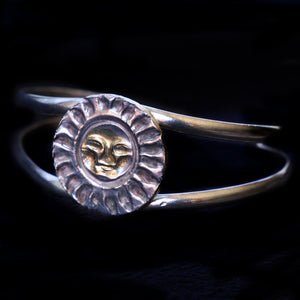 The medallion of the Sun Face was made of pure 999 silver burnished with 24K Gold foil. This process is called Keum Boo. The rays of the sun were accented by using patina. The medallion was made from Precious metal clay using a Sun stamp.
It was affixed to a Dutch silver bracelet with a circular piece of metal on top, using heavy duty E6000 adhesive. Dutch silver is a base metal which has the appearance of sterling silver and tends not to tarnish.
It is easy to adjust the bracelet to any wrist since it is open, and slide it up to where it sits most comfortably.
It is a cheerful addition to any attire.
Dimensions: Medallion diameter 1 and 1/8th inch. From end to end the bracelet is 6 inches but can fit any wrist since it is an open ended bracelet.