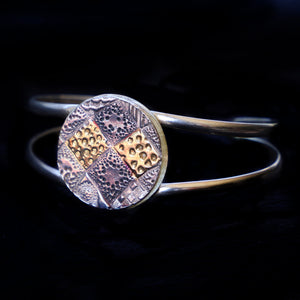 The circular pure 999 silver medallion has 4 textured diamond patterns on it. I burnished 2 of the diamonds with 24K gold foil and accented the other two with patina which gave them an oxidized appearance. The medallion was made from Precious metal silver clay and fired in a kiln after the edges were refined and smoothed and the piece was completely dry.
After the 24K gold foil and patina were applied, the medallion was affixed to the circular metallic piece on the bracelet using heavy duty E6000 adhesive. 
The bracelet is Dutch silver which is base metal but has the appearance of sterling silver and tends not to tarnish.
Dimensions: Medallion diameter 1 inch. Bracelet length 6 inches. Since it is open ended it fits all sizes and can be slid up or down to fit the most comfortable spot.
It is a very unusual pattern and graces any wrist.
PLEASE NOTE: This bracelet has been purchased. I can create another one like it if you wish to purchase it.