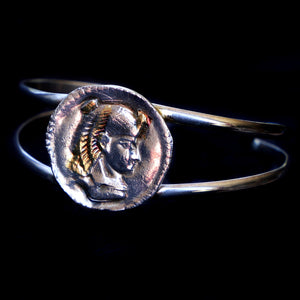 The Athena medallion was made using Precious metal silver clay and a stamp of Athena which I have. When the 999 pure silver medallion came out of the kiln it was burnished with 24K gold foil. This process is called Keum Boo. Patina was painted on for accent. 
The medallion was affixed to the circular disc on the Dutch silver bracelet with E6000, a strong adhesive.
Dutch silver is a base metal not sterling silver but does not appear to tarnish.
Athena is the ancient Greek goddess of wisdom, the daughter of Zeus. She was also the goddess of war and the crafts, an interesting combination. The Parthenon on the Acropolis of Athens was dedicated to Athena.
I was fortunate to travel to Greece 2 years ago and visit the Parthenon and the Museum both of which are outstanding.
A strong bracelet for strong women.
Dimensions: Diameter of the medallion 1 and 1/4 inch. Length of the bracelet 6 and 1/4 inch. The bracelet is open ended so should fit any wrist.