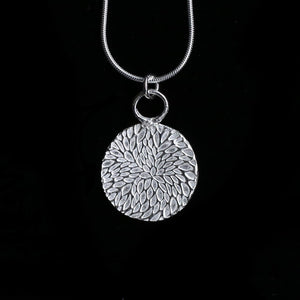 This was a Custom designed pendant for a young woman. She loved the petal texture. The texture was pressed into silver clay, cut out and refined before firing it in the kiln. It was polished and left shiny silver as per her request.
It looks stylish in it's simplicity, something that makes a statement but can be worn daily.
Dimensions : I inch diameter. Sterling silver snake chain 16 inches.
PLEASE NOTE: A customer has purchased this particular pendant. However I can make a custom pendant similar to this, as I did for another young woman, who requested flecks of gold and patina on her custom order.