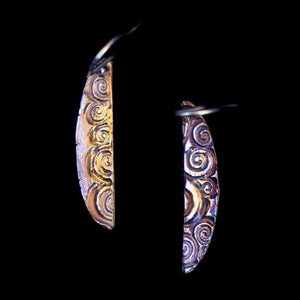 I pressed the circle texture silver metal clay, then cut the crescent shape. This has to be done gently and delicately particularly with small pieces of metal clay so that the clay does not pull or stretch.
After firing in the kiln the pure 999 silver earrings were burnished with a strip of 24K Gold foil. This is again difficult on a small piece. Patina was painted on for accent.

Circles are found in all cultures as positive symbols including the Sun, Moon, and Circle of Life. These are slender and youthful. 
Dimensions: 1 and 1/4 inch x almost 1/4 inch
Sterling silver ear wires. These can be switched to comfortable sterling silver clip ons for an additional charge.