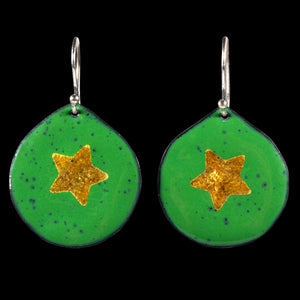 These are Copper earrings enameled with an emerald green opaque enamel accented with a 24K gold foil star enameled on the surface. Both sides of the earring have enamel on them to balance the enamel on each side and prevent warping. The star was placed after the green opaque was fired and smooth. The earrings probably went in and out of the kiln 3-4 times. 
I took enamel classes at the local community colleges as well classes by visiting artists. Working with enamel is a lot of fun and I learn more each class I take. There are so many styles of working with enamel, and there are so many types of enamel, opaque as well as transparent. Even sifting the granules has a whole science to it.
The opaque enamel on the earrings is a stylish color, which with the gold star would accent any outfit and create an elegant ensemble.

Dimensions Length with earwires 1 and a half inches. Diameter of the circle slightly more than 1 inch.
Sterling silver ear wires. These can be switched to comfortable sterling silver clip ons for an additional charge.