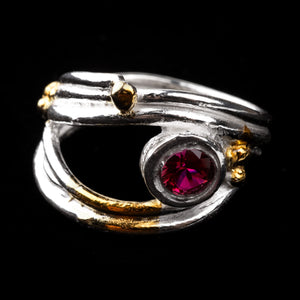 I made this ring using silver metal clay in coils on my ring mandrel. It was a new style for me. I read about it in a book. I added balls of silver clay and a beautiful shiny lab ruby which I could fire in the kiln. After 2 hours in the kiln, I burnished it with 24k gold foil.
It is a very beautiful and comfortable ring, which will adorn any finger.
Dimensions: It is a size 8 and fits smoothly.
PLEASE NOTE: A customer has purchased this particular ring. However, I can make a custom piece similar to this. It won't be exactly the same but close enough. I make everything by hand so each piece is slightly different.