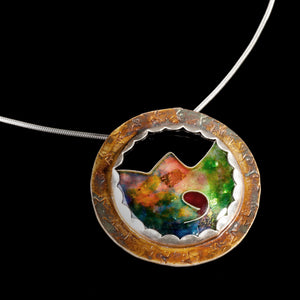 This is a Cloisonne pendant of a dark sky above colorful mountains with a depth of color. It is set in a 999 pure silver scalloped bezel with a sterling silver back plate. The chain is sterling silver.
Cloisonne wires are placed and affixed in place to create the design. Layers of enamel are fired one over the other. In this piece I have also placed pieces of gold and silver foil in the background to give it a depth and gleam of reflected light. Some of the enamel used is transparent some of it is opaque. For instance the dark sky is opaque.
The sterling silver back plate was hammered and textured and then painted with patina to set off the colors in the cloisonne and enamel pattern. It was fun to create a totally new pattern which I probably would not be able to reproduce.
It is a one of a kind piece.
Dimensions: The pendant diameter is almost 1 and 1/2 inches
Sterling silver snake chain 16 inches.