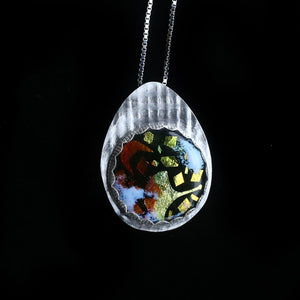 I made this following a Cloisonne class. In this piece I did not place any Cloisonne wires. I was playing around with Enamels and Silver and Gold foils. I cut Gold foil in the shape of a Ginkgo leaf and placed it at the bottom of my disc. I added pieces of foil and layers of clear, black and red enamel which gave it a feeling of depth as well as silver and gold objects floating in a dark pool.
For the background setting, I textured a piece of sterling silver in a cross hatch pattern, soldered a baile on the back and set the enameled piece in a scalloped bezel.
Dimensions: 1 and 1/2 inches long, 1 and 1/4 inches across. Teardrop shape.
18 inch sterling silver box chain