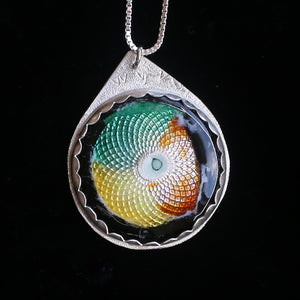 I used an interesting silver transfer on the surface of this pendant and then sifted different colors of transparent enamel onto the transfer so that the silver could shine through. I rimmed it with  opaque black enamel with a few tinges of opaque white to give a cloud like appearance. The colors are quite striking and cheerful.
I made a scallop shaped bezel. I used an etched piece as my back plate. The back plate is hammer textured and painted with some patina continuing the cloud theme. So actually it can be worn on either side.
Dimensions : Diameter 1 and 1/4 inches. Sterling silver 18 inch box chain.