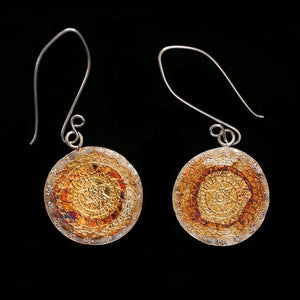 These beautiful earrings have a Central Star of David. They are made of pure 999 Silver. After firing them in the kiln I burnished a circle of 24K Gold foil over the Star to accentuate it. The process of fusing 999 silver and gold is called Keum Boo. I then painted patina which gave a vivid orange gold flare.
Dimensions : 1 and 1/4 inch in diameter. Sterling silver ear wires. These can be switched to comfortable sterling silver clip ons for an additional charge.
PLEASE NOTE: A customer has purchased this particular pair. However I can make a Custom pair. Since I make everything from scratch, it will not look look identical but will be similar. The patina colors may turn out a little different for instance.