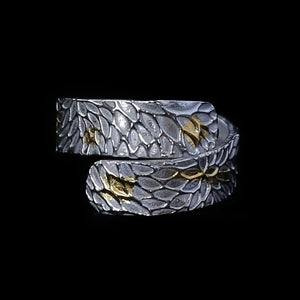 This ring was a Custom order. The texture is Chrysanthemum petals. The ring is open ended so slightly adjustable. It is flecked with 24K Gold foil burnished on to fuse 999 pure silver and gold. This process is called Keum Boo.
It is a beautiful ring being gifted to a young woman who likes simple jewelry.
Dimensions : Size 7 and half
PLEASE NOTE this specific ring has gone to a happy buyer. However, I can create a similar one if you would like to place a Custom order. It might look a little different since I start from scratch with each piece. For instance the gold may be in a different location.