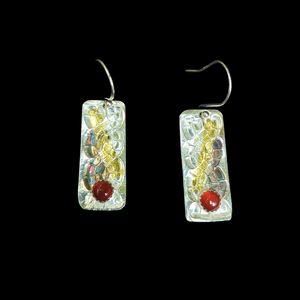 These earrings were made using silver metal clay. After creating the pattern and refining, they were kiln fired at 1645 degrees. What emerged was Pure 999 Silver. This was burnished with 24k gold foil, a gilding technique called Keum Boo. They were then accented with patina. I had embedded a pure silver bezel in the earrings before kiln firing. I tapped the Carnelian stones into the bezel as the last step in the process.
These earrings are very dressy and can be used for evening wear. They are very cheerful and can also be used as day wear earrings.

Dimensions: 1 and 1/4 inches X 1/2 inches. Sterling silver ear wires. These can be changed to comfortable sterling silver clip ons at an additional charge. 
PLEASE NOTE: These are currently at a Gallery. Please let me know if you wish to purchase them so I can take them out of the Gallery.