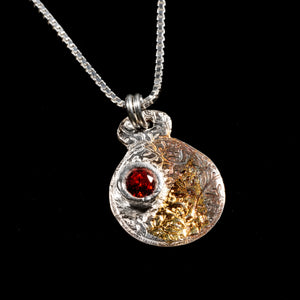 The texture for this pendant was pressed into Precious metal silver clay. The shape was cut out using a stencil. The stone is a Hessonite garnet set in a plain fine silver bezel. There is an opening behind the bezel which allows the light to shine through the stone. The pendant is pure 999 silver. I burnished it with 24K Gold foil. I painted on patina for accent.
The pendant is small, elegant and cheerful. It will enhance any outfit. It is one of a kind.

Dimensions 1 inch long  X 3/4 inches wide.
Sterling silver box chain.
PLEASE NOTE : This pendant has sold. However I can create a similar one as a custom order. It will not be identical since I make everything from scratch.