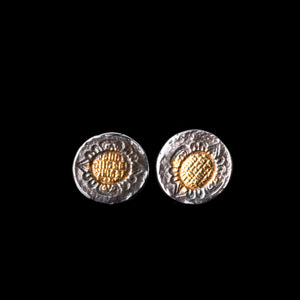 I have beautiful handmade paper cards from India which have this embossed stamp on them. I used them as background texture to press onto Precious metal silver clay and make small circular earrings. My daughter is very petite and likes small earrings. The earrings are burnished with 24K Gold foil and painted with patina.
I soldered on earring posts to make these sweet, elegant and decorative studs.
Dimensions: 1/2 inch in diameter. Earrings with sterling silver post and ear nut.
PLEASE NOTE: A customer has purchased this particular pair of earrings. However I can create a similar pair as a custom order. It will not look identical since I start from scratch with all my pieces.