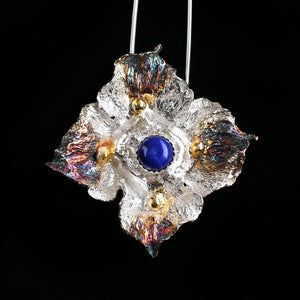 Persimmon Calyx can be found under the Persimmon tree. Fortunately for me, my friend has a tree and gives me fruit every year which is delicious. I crawled under her tree to gather the calyx. I selected one I liked and cleaned it to remove mud and dust. I then painted it with silver paste the consistency of cream. There were 10 coats with complete drying between each coat.
I created a Baile using silver clay at the back. A pure silver bezel was affixed in the front, surrounded by 4 balls of silver clay. The piece was fired in the kiln. The organic calyx burned away and a pure 999 silver piece emerged. I burnished the 4 balls and portions of the calyx with 24K Gold foil. Silver and gold fused together, a process called Keum Boo. I painted the tips of the 4 calyx leaves with patina till I got the shimmery blue and purple shades.
I inserted a brilliant Blue Lapis cabochon in the bezel. I love the way it turned out.
Dimensions : Almost 2 inches X 2 inches. Sterling silver snake chain 18 inches.
PLEASE NOTE: This pendant just sold. However I can recreate this as a custom order. It may not be exactly the same as I make each piece from scratch, but it will be very similar. For instance the application of Gold or patina may be different.