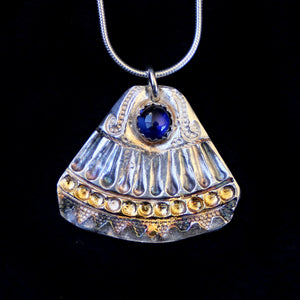 I pressed my design onto silver metal clay. I positioned a pure silver bezel at the top and adhered that to the dried and smoothed pattern.
When the pure silver 999 piece came out of the kiln it was burnished with 24k gold foil using the ancient Keum Boo gilding technique. Patina was painted on for accent. 
Finally the blue lapis cabochon was tapped into the bezel and secured by burnishing.
I really like the details of the granulations and the etched appearance. This pendant looks very regal with the royal blue of lapis and gold and silver metal.
A stylish statement piece.
Dimensions: 1 inch x 1 inch
Sterling silver snake chain is 18 inches long.