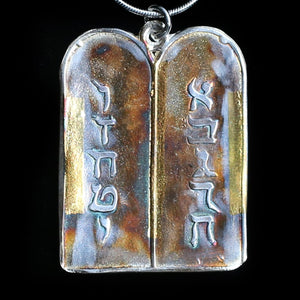 My friend Elaine, who used to make jewelry with me, left us last year. Her granddaughters gave me a brass pendant of a Biblical tablet with Hebrew letters on it amongst other things. She probably meant to make a silver pendant, using it as a template.
I made a mold out of the brass pendant then used silver clay to press into the mold. After the clay piece was fired in the kiln I burnished the center and edges with 24K Gold foil, a process called Keum boo. It fuses the two metals together. It also gives the piece an antique look when coupled with some light painting with patina. The patina gives it lovely gold, copper and blue green colors.
I originally made this as a Hanukkah gift at a show in December last year but I think it is a lovely gift at any time.
Dimensions : 1 and a half inches X 1 inch. Sterling silver chain 18 inches.