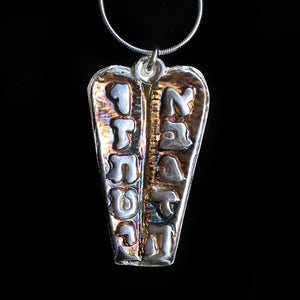 A brass pendant was amongst other things I received several months ago. My friend Elaine, who I used to make jewelry with left us and her granddaughters gave this to me. Elaine had probably planned to made a silver pendant out of it, so I did just that. I made a mold so that the letters would come out correctly. I used silver clay to make the pendant. When it came out of the kiln I used 24K Gold foil to burnish the area around the Hebrew letters. I painted the area with a little patina and left the letters shiny silver. 
I made this as a Hanukkah gift for a show I was a vendor at, in December 2021. I imagine it could be gifted at any other time as well.
Dimensions : 1 and 1/2 inches long X 3/4 inch at the widest upper end. Sterling silver chain 20 inch length.