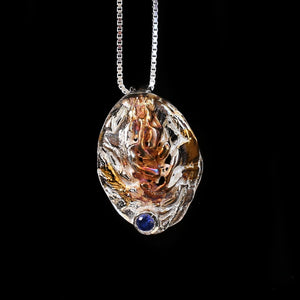 I was looking for Persimmon fruit calyx in my friend's garden and came across a stone fruit pit from her compost. I think it is a peach pit. I loved the texture and decided to make a pendant. Mold making material will allow me to preserve the texture. I used silver clay to press into the mold to get the texture details. I positioned a blue sapphire at the lower end of the pendant. I created a silver Baile in the back and fired the dried clay form in the kiln.
What came out of the kiln was this beautifully textured 999 silver piece, with the sapphire. I burnished it with 24K gold foil, a process called Keum Boo which fuses the Pure silver and gold. I painted it with patina to add more coppery blues and greens.
I love the way this elegant pendant turned out from a humble composted peach pit. 
Dimensions: 1 and 1/4 inch X 1 inch. Sterling silver box chain 18 inches.