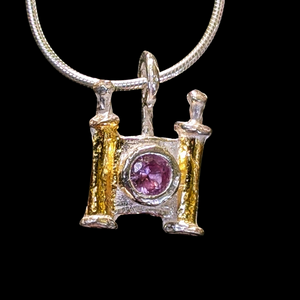 Pure Silver and 24k Gold Scroll Pendant with Amethyst
I inherited a small scroll from a jeweler friend who collected Judaica.
This striking pendant could be a Hanukkah gift or a gift at any other time as well. First I made a mold of the scroll and filled it with silver clay. When dry I popped it out of the mold and refined it. I created a loop for the chain then embedded a lab amethyst in the center and fired it in the kiln. The result was pure 999 silver. I burnished the amethyst pendant with 24k gold foil - a gilding technique called Keum Boo. 
Sometimes making a small piece like this requires more delicate work and time.
Dimensions : 1/2 inch X 1/2 inch. 18 " sterling silver chain.