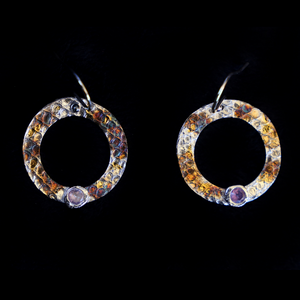 These beautiful hoop earrings were made using pure silver metal clay. I pressed the snakeskin texture into the clay and shaped the hoops. While they were drying I made a bezel for the Alexandrite stone. The bezel enclosing the stone was refined using a flexible sanding pad then affixed to the hoop using silver syringe clay. The assembled hoops were placed in the kiln to fire after they were further refined.
After they came out of the kiln, the pure silver hoops were burnished with 24k gold foil, and patina was painted on for accent. The colors of the patina are lovely blues and purples which accentuate the purple of the Alexandrite stone.
These are lovely stylish earrings with a gold and silver mixed metal look and blue, purple, and lavender colors.
Dimensions: 1 inch diameter
Sterling silver ear wires. These can be switched to comfortable sterling silver clip ons for an additional charge.
PLEASE NOTE: This pair was just purchased by a happy customer sold. I can make a custom pair. They will be similar, but not identical since I make everything by hand.