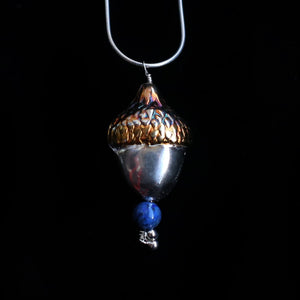 This handcrafted acorn pendant with blue lapis bead is unique and whimsical. 
I had been creating jewelry from real acorn caps and wanted to see how the full acorn would look. I pressed the moist silver clay sheet into the mold and cut out two halves of the acorn. I let the two halves dry and then refined them so I could put the two pieces together. I then joined them together using silver syringe clay in a strip all around. This was delicate work, to produce a seamless-looking acorn. After drying the acorn, I created a hole at the top and bottom so when placed in the kiln the hollow form would not explode.

I am really happy with the result.
I added a dangle of blue lapis bead with silver balls. This was after burnishing the acorn cap with 24k gold goil, an ancient gilding process called Keum Boo.
It is very decorative and pleasing, particularly to oak tree lovers.
Dimensions: 1 and 1/2 inches x 3/4 inches x 1/2 inch. Sterling silver snake chain 16 inches.