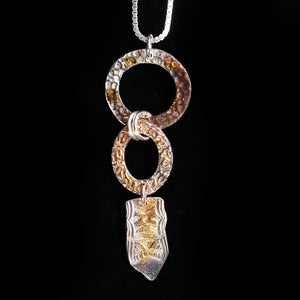 The 999 Silver hoops were textured and burnished with 24K Gold foil. Patina was painted on for color. Gold Foil burnished on to the Pure silver is a process called Keum Boo.
The textured dangle was also made using 999 Silver and Gold. I liked the idea of tapering the shape of the pendant.  It gives the pendant added interest and style. It adds charm to any outfit formal or informal.
Dimensions : Pendant length 2 inches. Width of the larger hoop 3/4 inch diameter. Sterling silver box chain 18 inches.
PLEASE NOTE : This pendant just sold. However I can create a custom order which will be similar but not identical since I make everything from scratch.