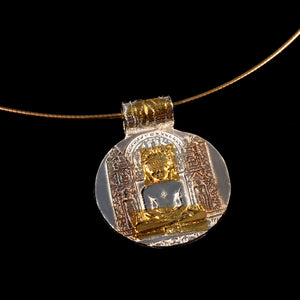 Gautam Buddha was born in India. He was destined to become king. However Prince Siddharth was saddened by seeing poverty, disease, old age and death around him when he left his palace in disguise.
He renounced his kingdom and a life of privilege and comfort, instead taking up the life of a monk wandering around with a begging bowl. His teachings included liberty from anger, attachment and envy. Pilgrims came from China and Japan to hear him speak. They carried his message back to their countries. Eventually the teachings of Buddha spread world wide.
This pendant was made starting out with pure silver precious metal clay. The Buddha design was pressed into the moist clay, which was dried and then kiln fired. It came out of the kiln as a pure 999 silver medallion. It was then burnished with 24K Gold foil, a process called Keum Boo. Then it was accented with patina. 
Dimensions: The diameter of the Buddha medallion is 1 inch and a quarter.
The included 17" neck wire is elegant. It is sterling silver, gold plated and diamond cut. It has a smooth beautifully formed sliding clasp.
PLEASE NOTE: This pendant just sold. However I can recreate this as a custom order. It may not be exactly the same as I make each piece from scratch, but it will be very similar. For instance the application of Gold or patina may be different.