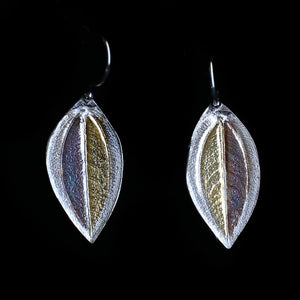 These are leaves of the Purple Princess flower which is a lovely shrub in my garden. Its botanical name is Tibouchina urvilleana. The flowers and leaves are quite striking. The leaves are almost furry and have an outer reddish tinge with a very detailed vein structure. They lend themselves very well to creating a gorgeous texture on moist Silver metal clay. I picked the leaves impressed them into the clay and fired the clay after drying and refining. I burnished the pure silver with 24K Gold foil, an ancient gilding process called Keum boo, and painted part of it with patina.
These will grace any person and outfit.
Dimensions: 1 and 1/2 inches X 1/2 inches. Sterling silver ear wires. These can be switched to comfortable sterling silver clip ons at an additional charge.
PLEASE NOTE: These earrings will be on display at the Pajaro Valley Art Gallery from August 25th to October 3rd. They will be available for purchase there.
These earrings sold while on display at the Pajaro Valley Art Gallery. However I can make a custom pair if you wish. They will not be identical to the pair in the photo since the leaf will be different, but they will be very similar.