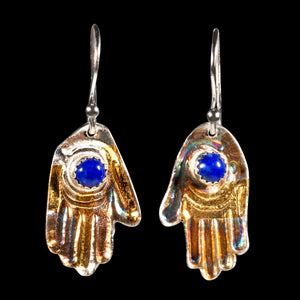 Hamza earrings. I used a stamp I have, to impress into Precious Metal silver clay. After drying the hands were refined using tiny sanding tools. A serrated pure silver bezel was affixed into the palm using syringe silver clay.
After firing in the kiln for 2 hours I had pure 999 silver hands. These were burnished with 24K Gold foil, and accented with patina. The stone is lapis lazuli which was secured in the bezel.
Hamza or Hamesh has so much significance, being a symbol of protection from evil in communities over the world. 
I love the deep blue of lapis alongside silver and gold.
Dimensions 1 and 1/4 inch from the top of the ear wire X 1/2 inch width
Sterling silver ear wires. These can be switched to comfortable sterling silver clip ons for an additional charge.
PLEASE NOTE This specific pair just sold. I can create a similar but not identical pair, since I start from scratch with each piece. For instance the gold and patina might be applied in different places.