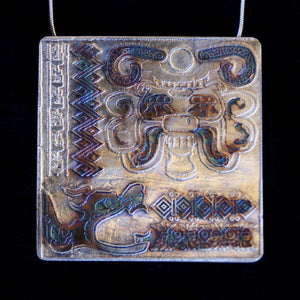 This is an impressive dragon breathing geometrical flames out of his large mouth. There are other designs above his head. I got this out of my Aztec pattern book. This was etched onto sterling silver.
Etching is a fun but time consuming process. You start out with sheet silver. You choose your pattern, in this case from my Aztec design book, and print it on special paper. You burnish the design on to the heated metal and then peel off the paper. The silver sheet is then floated on an acid bath. The exposed metal gets etched with the selected pattern. After the etch is deep enough the metal is neutralized and the blue paper is scrubbed off with a solvent.
The metal shape was cut out with a jeweler's saw. The sides were filed and smoothed with sandpaper. Two rings were soldered onto the back plate to hold the chain. The piece was polished and then painted with patina to highlight and contrast.
This is a stunning statement piece with a lot of detail in the etching.
Dimensions: 1 and 5/8 inches square
Sterling silver snake chain 16 inches.