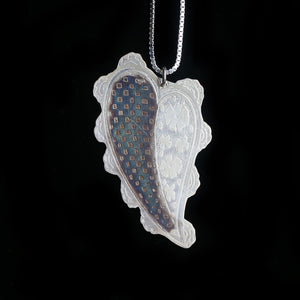 Etching is a fun but time-consuming process. I begin with sheet silver. I select my design and print it on special paper. The design is burnished onto the heated metal and the paper is peeled off. The silver sheet is then floated on an acid bath. The exposed metal gets etched with the pattern. The silver is neutralized in a bath and the special blue paper for the design is scrubbed off with a solvent.
I cut out the pendant from the silver sheet using a jeweler's saw. I filed and smoothed the edges, polished the silver, then painted patina onto the etched surface to accentuate the design.
This is from one of my Indian Design books. The heart is curved to the right with an unusual shape almost like a mango. The design is split in two with a checkerboard on the left and flowers on the right.
Patina gives it a blue as well as coppery glint on the left while the silver shines on the rest of the piece.
Dimensions : 2 inches X 1 and 1/4 inch. Sterling silver box chain 18 inches.