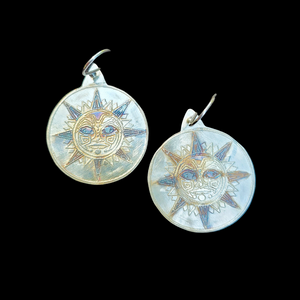 Etching is a fun but time-consuming process. I start out with sheet silver, then print the pattern on special paper. I burnish the design onto the heated metal and then peel off the paper. The silver sheet is then floated on an acid bath where the exposed metal gets etched with the pattern. The silver is neutralized in a bath and the special blue paper for the design is scrubbed off with a solvent.

I cut out the earrings from the silver sheet using a jeweler's saw. I filed and smoothed the edges. I then painted patina onto the etched surface to accentuate the design.
The sun or Surya is sacred in India. We get our light and warmth from the sun. The most comprehensive Asana or pose in Yoga is Surya Namaskar or Salutation to the Sun.
Dimensions : 1 and 1/4 inch diameter.
Sterling silver ear wires. These can be switched to comfortable sterling silver clip ons for an additional charge.