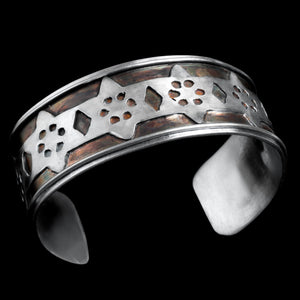 Sterling silver bracelet or cuff.
The paper pattern was cut out and stuck onto a sheet of sterling silver. The silver was cut out with a jeweler's saw. It was then soldered onto a sterling silver back plate. The edges of the cuff were accented with silver wire and gold balls. I painted the recesses with patina to accentuate the pattern.
I made this in a class with Albion Smith who is a master craftsman and wonderful teacher.
Dimensions 6 inches X 1 inch
This is an open cuff so should fit most any wrist.