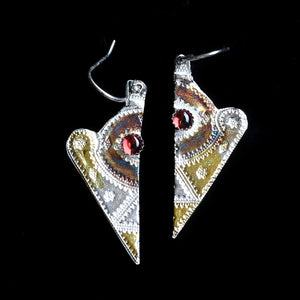 I modeled these earrings after a pendant I own. The style is typically Indian. The stone is a lab Ruby cabochon.
Using my pendant as a template, the earrings were formed using silver metal clay. They were fired in the kiln for 2 hours at 1645 degrees and what emerged was pure 999 silver. I burnished 24K gold foil to achieve a mixed metal look. Prior to firing the earrings, I had affixed a bezel for the Ruby on the surface of the clay. After painting on some patina, I tapped the Ruby into the bezel and secured it by burnishing it.
These stylish and elegant earrings will look stunning on the wearer.
Dimensions: 1 and 1/2 inches long X 3/4 inches at the widest portion. Sterling silver ear wires. These can be switched to comfortable sterling silver clip ons for an additional charge.