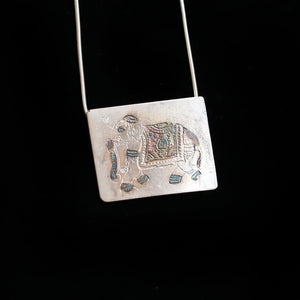 This sweet etched, Indian, decorated elephant is a charming pendant for all Elephant lovers.
Elephants in India have a special status because Lord Ganesh has the head of an elephant. In the old days elephants were decked out in all their finery at special festive occasions. They would have garlands of flowers, special silk covers and colorful headdresses. They would be fed special foods at this time. I remember seeing an elephant walking down the street in Pune at the time of elections years ago.
Etching is a fun but time consuming process. You start out with sheet silver. You choose your pattern, in this case from my Indian design book, and print it on special paper. You burnish the design on to the heated metal and then peel off the paper. The silver sheet is then floated on an acid bath. The exposed metal gets etched with the selected pattern. After you have achieved a deep enough etch the silver is neutralized and the blue design is scrubbed off with a solvent.
I cut the rectangle out using a jeweler's saw. The piece was filed, sandpapered and polished to make it shiny and smooth. I soldered bailes onto the back for the chain. The elephant was painted with patina to give it blue and green color for accent.
Dimensions: 1 and 1/4 inch by almost one inch. The sterling silver snake chain is 16 inches long.