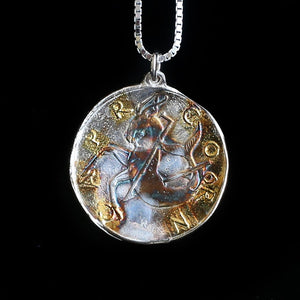 Capricorn Zodiac Sign Astrological Medallion Pendant
Capricorn birthdays are from December 22 through January 19th. The sign is symbolized by the sea goat, a mythological creature with the body of a goat and the tail of a fish.
Capricorns tend to be disciplined, responsible, and cautious according to what I have read. I have had a lovely Capricorn medallion for years so decided to recreate it in pure 999 silver burnished with 24k gold foil. I made a mold and pressed the silver clay into it carefully, to get the lettering just right. I burnished 24k gold foil onto each letter so that each letter would stand out. I painted the medallion in parts with patina to get the lovely blue, green, and copper colors.
I imagine only Capricorns would like to wear a Capricorn medallion. Capricorns are compatible with Taurus and Cancer so maybe they might want to wear a Capricorn medallion as well.
Dimensions: 1 inch in diameter. 16 inch sterling silver box chain.