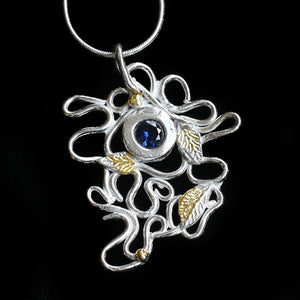 This piece was inspired by a Lisel Crowley video. She alas is no longer with us.
The central stone is a lab blue sapphire. The lacy coils which surround the stone are made with coils of silver clay. I decorated the coils with balls of silver clay and leaf designs. After the piece was fired in the kiln I burnished the silver balls and leaves with 24K Gold foil for a mixed metal look. Burnishing the Gold Foil onto the pure 999 silver is a process called Keum boo.
This pendant is elegant and festive. It will dress up any outfit and make the wearer feel confident.
Dimensions: 1 and a half inches X 1 and 1/4 inches. 18 inch sterling silver snake chain.

PLEASE NOTE: This is not available anymore but I can make another one as a CUSTOM ORDER. It will not be exactly the same as I start from scratch each time.