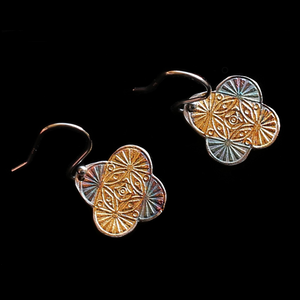 These handcrafted silver and gold 4 Leaf Clover Earrings are elegant and unique. 
They are kiln-fired pure 999 silver burnished with 24k gold foil. My process uses an ancient gilding technique called Keum Boo which fuses the gold to the silver. The earrings were then painted with patina as an accent.
The four leaf clover is a rare variation of the more common three leaf. Four leaf clovers bring good luck to the wearer according to folk tradition. 
The earrings are small and delicate and are suited both to dress up or every day wear. 

Dimensions: 3/4 inch X 3/4 inch.

Sterling silver ear wires. These can be switched to comfortable sterling silver clip-ons for an additional charge.