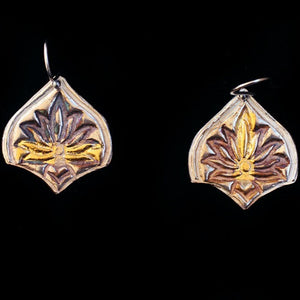 I made these beautiful Lotus earrings using a wooden stamp I purchased in India. Lotus are lovely elegant sacred flowers a favorite of the Gautama Buddha. In paintings he is often seen holding a lotus. Lotus grow in mud, hence the phrase "no mud no Lotus."
The Lotus in Sanskrit is called Kamal, hence the female name of Kamal or Kamala.
Last year in Kerala one of our hotels had a lotus pond where we would have breakfast and lunch and feast our eyes on this flower which glows like a jewel.
The earrings were made using silver clay, then burnished with 24K Gold foil once they came out of the kiln. This technique is called Keum Boo. Patina was painted on for contrast. The effect is serene and graceful and will bring joy and peace to the wearer.
Dimensions: About 1 inch X 1 inch. Sterling silver ear wires. These can be changed to comfortable sterling silver clip ons for an additional cost.