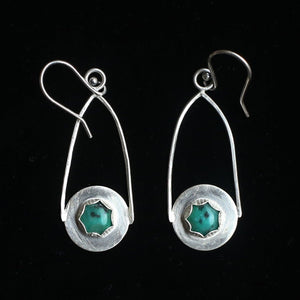 I enjoyed making these earrings with the flecked Chrysocolla stones as the highlights. I made the discs, then created the scalloped bezels for the stones. The long wires cradling the disc for the stone were soldered on the sides of the disc. A jump ring was soldered on the top to hold the ear wire.
The ear rings dangle and compliment any outfit. They are playful and dressy at the same time.
Dimensions: 1 and 3/4 inches long X 3/4 inches wide. Sterling silver ear wires.