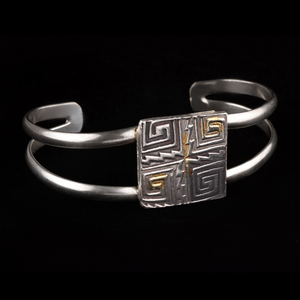 I made a square, pure 999 silver medallion, stamping the moist clay with a geometric pattern. I used Precious metal silver clay for this. After firing in the kiln, I burnished it with 24K gold foil, fusing the gold to the pure silver. This process is called Keum boo. I painted patina onto part of the medallion. I affixed the medallion to the cuff, which is made of what is called Dutch silver. It is not real silver but has the advantage of not tarnishing.
This is a handsome non denominational cuff and could be worn by anyone.
Dimensions : The square medallion is a little less than an inch square. The cuff is 6 inches but is open in the back so can fit any wrist.