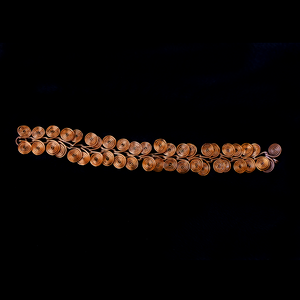 The copper bracelet starts out as a straight piece of cut copper wire. The wire ends are filed to smooth them. Then the wire is coiled at each end and bent in the center. It is bent again over itself. This is done with multiple strands of wire of equal length. The bent coiled pieces are slid one into the other to form the chain. The last piece of chain is longer and forms the clasp which slides into a jump ring at the other end of the chain.
Apparently the Egyptians used this circle adornment as did many cultures all over the world. The name Egyptian chain apparently comes from that past.
It takes a while to cut the wire, coil it and assemble it. Egyptian chain can be made in silver, gold fill or a mixture of all three. It is very striking worn on the wrist particularly when it is fitted to the wrist. It should be snug but not too tight or too loose.
Dimensions: 6 and 1/2 inches or longer depending on the wrist