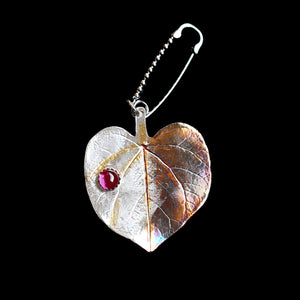 This leaf is from my friend's garden. The tree is called a Western Redbud or California Redbud and looks quite spectacular when in full bloom from March to May. The botanical name is Cercis occidentalis. 
I pressed the leaf into silver clay and cut out the outline with the detailed texture. I affixed a silver bezel on the leaf impression. After kiln firing, the result is 999 pure silver. I burnished the leaf veins with 24K Gold foil to bond the pure silver and gold, a process called Keum Boo. I painted it with patina for contrast. I inserted the ruby cabochon into the bezel. Then I attached a sterling silver pin so it could function as a decorative brooch pin.
This piece could be a pendant as well. 
This brooch was recently on display at the Curated by the Sea Gallery on Front Street in Santa Cruz. 
Dimensions : 1 and 1/2 inches X 2 and 3/4 inches with attached sterling silver decorative brooch pin. If you would like to purchase the piece as a pendant, I will provide a sterling silver chain instead of the pin. 
PLEASE NOTE: These particular piece has been purchased. However I can create a similar one as a custom order if you so wish. It will be slightly different since each leaf is different, the application of the gold and patina may also be slightly different.