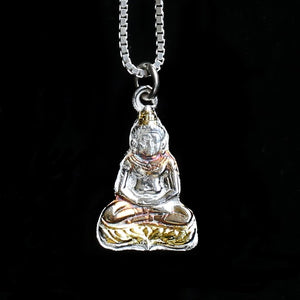 Gautam Buddha was born in India. He was originally Prince Siddharth, who would have become a king. As a young man he was saddened by seeing poverty, sickness, aging and death. He renounced his life of comfort and took on the robes of a monk as well as a begging bowl. He wandered from place to place seeking teachings from holy men and the truth about life. The truths he came to were liberty from anger, envy, greed amongst others. Pilgrims came from far off Japan and China to hear him and take back his message. Buddhism eventually spread all over the world.
This depiction of Buddha is a small pendant made showing him seated in a meditative pose on a lotus. It was made using silver clay. It is pure 999 silver burnished with 24K Gold foil, a technique called Keum Boo. It is painted with patina for contrast. The pendant is delicate looking and petite.
Dimensions : 1 inch X 1/2 inch. Sterling silver 16 inch box chain.