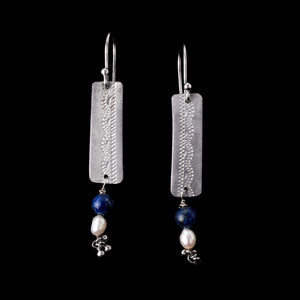 This is an engraved sterling silver strip, I cut out of an antique silver belt buckle. I had enough to make a pair of earrings which I embellished with Lapis and Pearl dangles with little silver balls at the bottom.
I like the fact that this is repurposed jewelry.
These are simple but elegant, dressy earrings for those who like petite styles. These look striking as everyday wear or for special occasions.
Dimensions : Almost 2 inches X Almost 1/2 inch