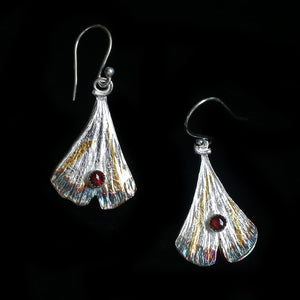 I plucked these Ginkgo earrings from outside my office at the County building. Ginkgo leaves come in different shapes and sizes so I usually pluck a variety. Since the new leaves grow in spring and drop in the fall, I make it a point to gather them at different times.
Ginkgo trees are amazingly resilient. They grew back after the bomb blasts in Hiroshima!
I press the leaves into silver clay to get the impression, then cut around the leaf. Before firing the dried clay I position a fine silver bezel in the clay and adhere it with syringe clay. After firing I burnish parts of the pure 999 silver leaf with 24K Gold foil, a process called Keum boo. The two metals fuse and give a very attractive mixed metal look. After painting on patina for accent, I tap the garnet into the bezel and secure it.
These lovely earrings can be worn for dress up or everyday wear.
Dimensions: 1 inch long X 3/4 inch at the widest part. Sterling silver ear wires. These can be switched to comfortable sterling silver ear wires for an additional charge.