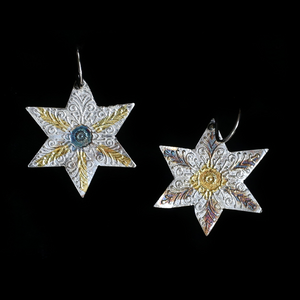 These lovely snowflake earrings can be worn in any season, though I did create them for a Christmas show.
They were made using silver clay and a snowflake template which I cut out in the shape of a star. After firing in the kiln the snowflake was pure 999 silver onto which I burnished 24K Gold foil, a process called Keum boo. I painted some patina for accent.
These are elegant and festive whenever they are worn.
Dimensions : 1 and 1/4 inch across. Sterling silver ear wires. These can be switched to comfortable sterling silver clip ons at an additional cost.