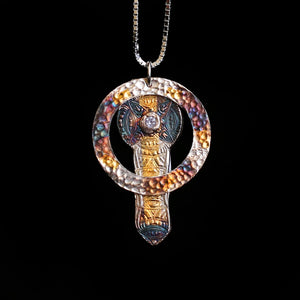 This pendant is the happy marriage of two different projects.
I made a number of textured circular hoops and set some aside.
I had created another piece with a cross with a center of clear cubic zirconium and complex texture.
I burnished both pieces which are 999 pure silver with gold using the Keum boo process and painted them with patina. When I put them together on a silver chain the pendant looked stunning and unusual.
Dimensions : Length a little over 1 and 1/2 inches width about 1 and 1/4 inch. Sterling silver box chain 18 inches
PLEASE NOTE : This pendant just sold. However I could recreate it as a custom order. It may not look exactly like the one here because the location of the gold and patina may be different since I create everything from scratch.